Meet this year's finalists of the European Social Innovation Competition
See who were selected as the ten finalists from the 1,095 applications that were received.
29 september 2016
After a long and hard discussion in Brussels this week, the expert jury chose the ten finalists of the European Social Innovation Competition 2016++EUSICRead more about the European Social Innovation Competition and this year's theme of inclusion of migrants and refugees. on Integrated Futures. This annual competition is initiated by the European Commission and Kennisland is part of the organising team together with Nesta, Matter&Co, Shipyard, and Impact Hub.
Joséphine Goube, COO of Techfugees and member of the 2016 jury commented: "The 10 finalists give a good insight into what some European citizens have been helping with on the ground instead of waiting on government to take action. I hope they not only will inspire others to put their own ideas into action but also get well needed support from governments to scale and be sustainable."
Without further ado: read on to find out who this year's top ten finalists are.   
New neighbours Arnsberg (Germany) is a refugee-led initiative to work with municipalities to co-develop innovative approaches to integration, participation and urban development. Neue Nachbarn Arnsberg (New Neighbours Arnsberg) is a new form of co-production where refugees help the municipality to become better at what it does.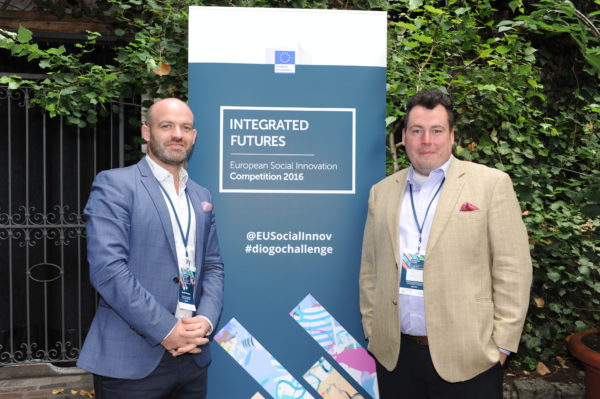 Financial democratisation for refugees and migrants (Ireland) concerns an intelligent voucher and digital ID initiative for the refugee crisis. The system stores a digital record of a person's ID on a smart card along with an array of additional information such as electronic cash, social welfare entitlements and dental/health records.
The mission of the The Bike Project (United Kingdom) is simple: to get refugees cycling. They want to train and employ refugees to fix bikes for other refugees to cycle. The Bike Project is a young charity based in Southwark, London.
ichhelfe.jetzt (Germany) is an online platform that connects organisations and initiatives working to improve the care of refugees with people willing to help. Their website registers in-kind donations and offers of volunteer time online.
Project Virtuous Triangle (Turkey) is a platform that addresses community cohesion and skills development simultaneously. Based on the principles of reciprocity, profitability and mutual understanding, Virtuous Triangle aims to open up a platform where local university students and primary school children are matched to refugee pupils.
Capital Digital (Belgium) trains young migrants from the poorest neighbourhoods of Brussels to teach their younger brothers, sisters and peers to code on computer and tablet.
Safe housing for LGBT Refugees (United Kingdom) is focussed on providing safe housing for LGBT refugees to help them integrate in British society and to end LGBT poverty. It is estimated that 2,000 LGBT asylum seekers enter the UK every year.
The Machine to be Another (Spain) is a scalable system that allows pairs of individuals, such as Europeans and migrants, to step into each other's shoes through virtual reality.
CUCULA (Germany) is an educational and manufacturing project. It enables refugees to build up their own future by making furniture based on the concept of the Italian designer Enzo Mari.
Solidarity Salt (Greece) is a new social enterprise that empowers refugee women in Greece while boosting the local economy by selling Greek sea salt to the global market.
On 27 October 2016 the ten finalists will pitch in front of the jury in Brussels. Of the ten finalists, three winners will each be awarded a prize of € 50,000. Keen to meet the finalists and to get to know the competition better? Join us for the Awards Ceremony++Awards CeremonyInterested to join us in Brussels? Check out the invitation for more details and registration (free). !
Follow the #diogochallenge journey on Twitter: @EUSocialInnov.